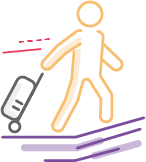 If a smooth and consistent reservation transaction is the table stakes of hospitality operations, a truly connected and tailored experience is the aspirational goal. Achieving that goal requires taking operational, data integration, analytical and intelligent automation capabilities to the next level.
These capabilities are essential, for example, to enable Internet of Things (IoT) and smart device initiatives that leverage detailed data on facility operations, energy consumption and guest activity to improve hotel security and safety. More specifically, connectivity and interoperability are imperative to building the networks of intelligent assets needed to fulfill the IoT's potential.
Delivering a uniquely tailored guest experience, meanwhile, requires the ability to glean nuggets of insight from analyses of data on loyalty program points, account history and activity from previous stays. Organizations that get it right can, for example, deliver perfectly timed offers to visit favorite cities, packages for spouses and kids and promotions aimed at birthdays and anniversaries.
Hospitality organizations committed to enhancing the guest experience are stepping up their investments in tools and platforms to collect and analyze guest data. While collecting data is relatively easy, the hard part is capturing the right data (or knowing what data to look for) and then acting on that data in a way that delivers a difference-making experience to the guest. The fallback strategy is to collect as much data as possible to avoid missing a potentially critical insight; this, however, creates a risk of becoming overwhelmed by volumes of seemingly random data points.